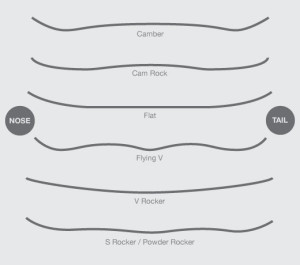 Those graphics above aren't types of mustaches, they are actually examples of the various snowboard bend options available today.  Every company has a slick name for their hybrid snowboards and Burton (pictured above) uses "Flying V" to describe their ultimate hybrid snowboard profile.   Salomon actually used mustaches to describe their bends a few years back!   There are basically three words you need to know when selecting a snowboard these days:  Camber, Rocker, and Hyrbrid.
Up until six or seven years ago most snowboards we were riding were camber.  Camber is what gives the snowboard it's power.  Camber helps you carve turns and helps you keep an edge hold when riding fast.  Then several years ago the manufacturers released fully "rocker'd" boards.   Boards with full rocker look and ride the exactly the opposite of camber.  With the nose and tail of the board completely lifted off the snow, the snowboard floats on the powder with less effort.   The snowboard is much more playful too (riding park or just buttering or pressing).  Finally, fully rocker'd snowboards are easier to ride for beginners since the snowboard isn't likely to catch at edge.   However, rocker'd snowboards do have their limitations when carving aggressive turns (especially on hard pack or ice) and tend to ride less stable at high speeds.    The snowboard manufacturers decided "why don't we give the riders the best of both worlds:  camber under foot for edge hold and rocker tip and tail to make it float on powder and make it  more playful".    This is what we now call "hybrid" snowboards.
Just about every snowboard we sell at The Ski Shop is of the hybrid variety.  In the graphic starting this article, check out the "flying v" bend from Burton.  The outside edges of the "v" shape in the middle are the camber zones.  Then you can really see how the tail and tip bend up in the rocker'd zones.  With any Hybrid, you can take the chair lift all the way up to the top of the mountain and ride (float) effortlessly in the powder then on your way down as the snow becomes more hard packed (or even icy)  you'll still get awesome edge grip and control!
The big question then becomes "which hybrid is right for me".  Lucky for you, the snowboarders at The Ski Shop have done all the research for you!   Last February our employees were "test riding" all of the 2016 decks at Copper Mountain.  Ultimately we brought in the snowboards we felt rode the best in many different categories and on lots of different terrain.   Stop by The Ski Shop and visit with the snowboard experts.  We'll show you the differences between various models and which one is just right for you!